Medford, OR — A Medford lawyer says tonight he has a class action claim against an Oregon state trooper for racial discrimination in traffic stops.
He also has a document from Jackson County's District Attorney to support his case.
Justin Rosas says Trooper Travis Peterson "has been underreporting his traffic stops and his K-9 searches to appear fair and has had drugs in his possession mysteriously disappear."
Rosas makes his claims in a four-page letter outlining instances he asserts mistreated his law firm's eight clients who comprise the class action litigants, "including six people of color."  The information lists 29-year-old Cesar Alfaro, 47-year-old Bo Tan and 46-year-old Enriquillo Batista as examples of racial profiling for traffic stops, with Rosas stating, "Travis Peterson was tasked with doing the lion's share of the drug interdiction stops on Interstate 5."
Jackson County District Attorney Beth Heckert's office shared information in a September 7, 2021 memo (below) to Rosas that outlines findings to an investigation of five allegations at the time against Trooper Peterson, related to his administrative leave.
The memo said two allegations were not substantiated.  It says three "allegations that were sustained are:
(1) Between 6/1/20 and 3/31/21 Peterson failed to appropriately document his traffic contacts and searches in Report Beam and/or K-9 Deployment Log/notebooks/Niche.
(2) Between June 1, 2020 and March 31, 2021 Peterson failed to appropriately document several K-9 deployments in his K-9 deployment log.
(3) On December 31, 2020 and January 25, 2021 Peterson seized contraband believed to be controlled substances and failed to properly impound them into evidence."
The memo says, "The facts that supported the sustained allegation in (1) is during that time frame, he performed approximately 750 traffic stops of which he documented 447 as required.  269 of the 750 stops were not documented in Report Beam as required by policy.  Allegation (2) Peterson conducted approximately 139 searches (with or without K9) between those dates.  Of those 139, 40 involved the deployment of his K9.  Seven were not documented in the log.  Four of those deployments included an 'alert' that would be calculated in the accuracy rating.  the facts that support the third allegation is on 12/31/20 he seized 1 item believed to be a MDMA pill and on 1/25/21 Trooper Peterson seized what was believed to be 0.5 grams methamphetamine and11 ounce of marijuana.  Peterson stated both were put in a plastic glove to store and be destroyed.  Neither item was ever placed into evidence.  Peterson believes there were accidently thrown away."
NewsWatch 12 has a request for related information from Oregon State Police.
Rosas wrote, "My clients trust that the discovery process will also reveal the names of those still in prison, those still facing charges and those other victims of racial discrimination, unlawful arrest, unlawful seizure of property, destruction of evidence and malicious prosecution as a result of Trooper Peterson's illegal conduct."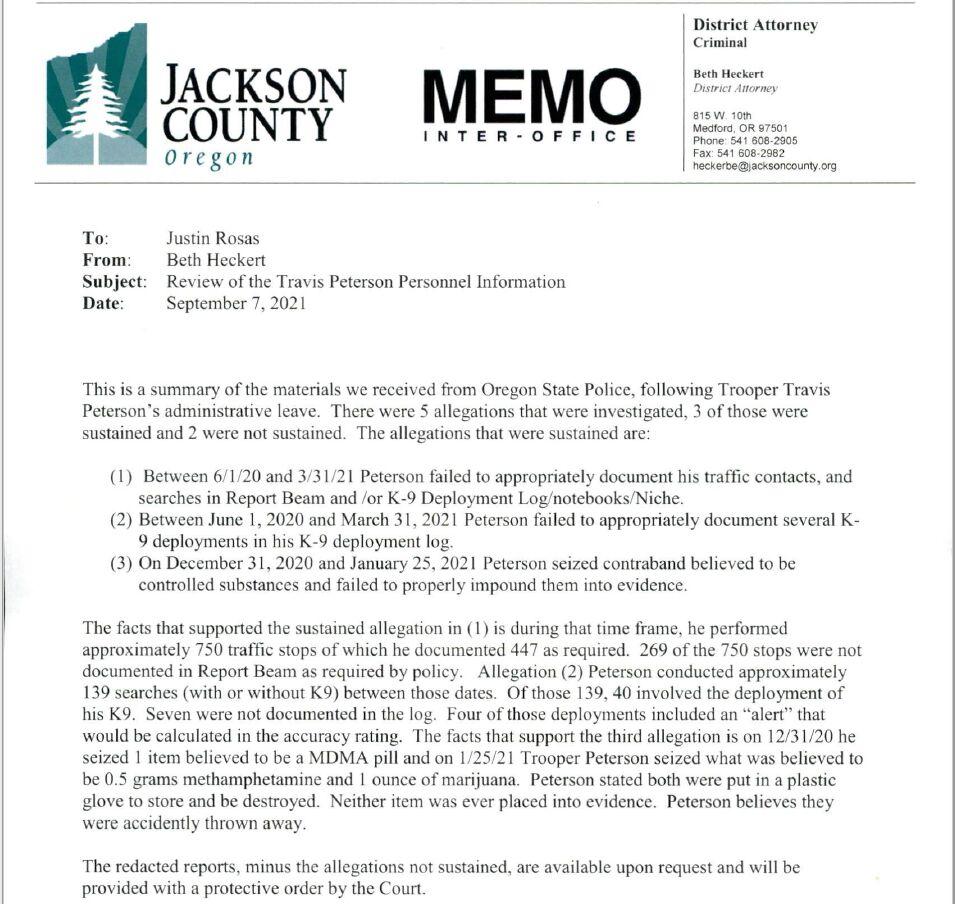 Follow @KDRV12 on Facebook and @KDRV on Twitter for the latest news, sports, and weather in Southern Oregon and Northern California.

https://www.kdrv.com/news/law-enforcer-faces-legal-claim-after-investigation/article_ed20f8e0-9aa3-11ec-ae74-a7782c1c6983.html